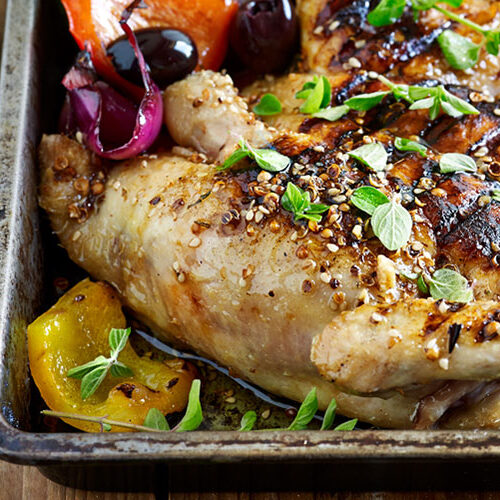 Partridge Dukkah
Dukkah Spice can be found in most supermarkets or from www.thedukkahcompany.com
This recipe has been given to us by Mark Lloyd one of the Taste of Game Chefs. Mark undertakes game cookery demonstrations for us across the country.
Cook, wild food expert, stockman, hunter, fisherman, author, presenter and Food waste warrior……
Renowned for his British wild food knowledge and true farm to fork ethos, he honed his skills in top establishments both in the UK and Europe. These skills saw him head up the first River Cottage Canteen.
Mark has a passion for shooting, fishing and foraging, also has reared his own livestock, set up chemical free kitchen gardens, poly tunnels and even a heritage orchard.
Mark has an amazing understanding of kitchen gardens and animal husbandry, utilizing every part of the animal and also a lot of the weeds!!!
His talents don't end there, writing features on wild food for some of the top food publications, including BBC Good Food Magazine, Harrods, Elle, and NFU magazine.
Mark was also Brand Ambassador/Executive Chef for premium appliance company Miele for 2010-2012.
Mark creates amazing recipes with the best offered by Britain's Larder and we have four on the Taste of Game website.
Drunken rabbit, wild rice and fennel flatbreads
Venison Wellington, rosemary and redcurrant sauce, steamed greens
Dukkah Partridge
Pot roasted pheasant, properly garnished
www.realmarklloyd.co.uk
Ingredients
2

partridge crowns

ask your butcher to do this

2

tbsp

Dukkah

3

tbsp

rapeseed oil

100

grams

bulgar wheat

1

carrot

diced small

1

celery

diced small

1

cinnamon stick

1

star anise

300

ml

chicken stock

1

red pepper

sliced in big chunks

1

yellow pepper

sliced in big chunks

1

red onion

split into 1/8th's

1

courgette

cut into ribbons lengthways

2

flat breads
Instructions
Combine the partridge, dukkah and oil into a sandwich zip-lock bag and marinate over night.

Combine the bulgar wheat, carrot, celery, cinnamon stick, star anise and cover with the stock, bring to the boil and simmer until cooked, usually about14-15 mins.

Cook the partridge on a heated griddle pan and sear the birds on both sides for 4-5 minutes then into an oven at 180c for 8 minutes, allow to rest for 5 minutes before serving.

Place all the vegetables into a bowl, season with oil, salt and pepper. Using a griddle pan, get them nice and hot to ensure those trademark "bars" on the veg, once cooked place in a bowl and cover with cling film to keep warm.

To serve:

Fold the chopped chargrilled vegetables into the bulgar wheat, pour over the resting juices from vegetables and season.

Place a couple of flatbreads on the side and get stuck in!!!