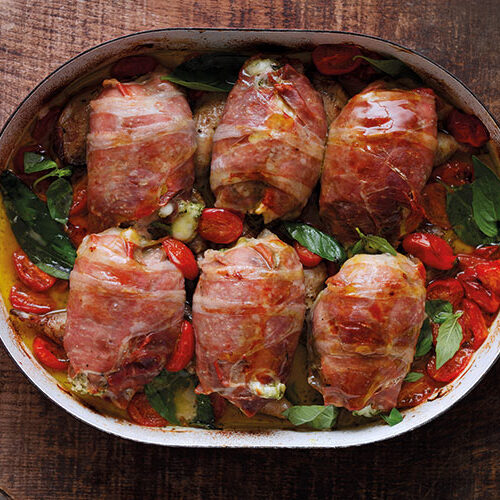 Stuffed & Tipsy Baked Partridges
A one pot, Mediterranean style dish using partridge- perfect for a dinner party…
Ingredients
6

oven ready partridge

200

ml

white wine

100

ml

chicken stock

1

ball

mozzarella

18

slices

parma ham

200

grams

cherry tomatoes

rapeseed or vegetable oil to fry

75

grams

pine nuts

1

bunch

basil

2

cloves

garlic

4

tbsp

extra virgin olive oil

75

grams

grated parmesan cheese
Instructions
Remove the legs and breast from the partridges. Discard the wish bones and skin the breasts.

Season the legs and fry off in a little oil. Using the same pan, add 100ml of wine and bring to the boil, deglazing the flavours from the bottom of the pan. Add stock and bring to the boil again.

Turn the heat down to a simmer and cook for 5 minutes. Place in a large oven-proof dish, cover with a lid or foil and place in the oven at 180℃ for 30 minutes.

While the partridges are in the oven, lightly toast the pine nuts and allow them to cool thoroughly.

Blitz the basil leaves (without stems), pine nuts, garlic and olive oil. Put the mix into a bowl and fold in the Parmesan cheese to make a thick, green paste.

Slice the mozzarella into six even slices and all the tomatoes in half.

Now, on a flat surface, lay three slices of the ham so they overlap, place one partridge breast on top and then add a slice of mozzarella a good spoonful of the pesto. Place another breast on top and wrap the ham around the breasts, keeping the joining on the bottom. Repeat with the rest of the breasts.

Remove the legs from the oven. Lay the stuffed breasts onto the legs. Add the tomatoes, a few roughly-chopped basil leaves and the rest of the wine.

Place the lid or foil back on and put back in oven for 20 minutes. Uncover and turn the oven up to 200℃ for 5 minutes for the meat to colour.