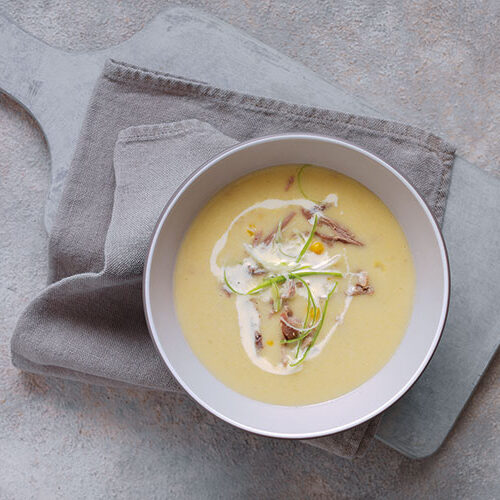 Wild Creamy Sweetcorn Soup
A creamy, luscious soup using pheasant legs…
Ingredients
6

pheasant legs

1.5

ltr

chicken stock

60

grams

butter

1

brown onion

50

grams

celery

30

grams

leek

250

grams

sweetcorn

60

grams

flour

150

ml

single cream
Instructions
Place the pheasant legs into the cold stock and bring to the boil.

Once boiling, turn down to a simmer and cook for 45 minutes, or until the meat comes off the bone easily. Keep the stock hot.

Once the meat is cooked, remove the legs from the stock and discard the skin. Pull the meat off the bone while it is still hot and remove any tough sinews. Shred the meat with a fork and place it into a bowl. Cover with cling film to keep it warm.

Take 50g of the sweet corn and cook in the stock until tender. Remove from stock and plunge into cold water. Do the same with 10g of leek, but only blanch it quickly. Set aside to be used for garnish.

In another pan, melt the butter, add the onion and sweat for 6 to 8 minutes, until the onion is soft.

Add the celery, 20g of leek and 200g of sweet corn. Cook for another 6 to 8 minutes and then add flour mix to make a roux. Cook for further 5 to 6 minutes.

Slowly add a 1/4 of the hot stock and mix well until it makes a thick, smooth sauce. Then, add more stock and mix well. Repeat the process until all the stock is mixed in and you have a smooth soup.

Cook for 10 minutes then season to taste.

Remove the soup from the stove and blitz it to a purée, then pass it through a strainer.

Put the soup back on the stove to reheat. Pour 100ml of cream into a bowl and slowly add a ladleful of soup, mixing well. Slowly pour this back into the soup while stirring. Remember, once the cream is in, do not allow the soup to boil again.

Mix in the shredded meat and sweet corn, check seasoning again and pour the soup into bowls. Finish with a little swirl of cream and the shredded leeks and sweet corn you saved earlier.