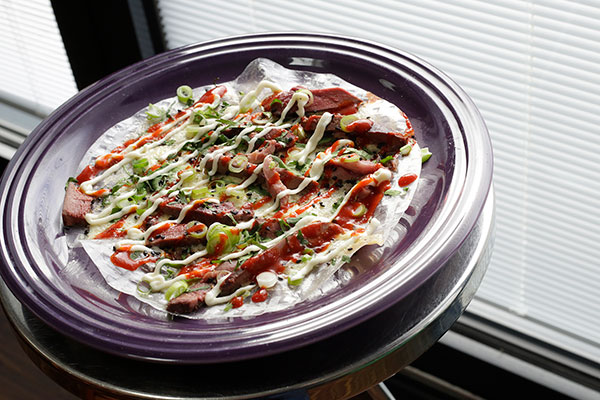 Pigeon Banh Trang Nuong (Vietnamese pizza)
Popular street food in Vietnam, Tony Singh uses the classic British pigeon to showcase an easy to make snack perfect for entertaining.
Ingredients
6

Vietnamese rice paper sheets

3

eggs

3

spring onions

2

oven ready pigeons

1

small tin

anchovies

1

small bunch

coriander

good quality mayonnaise

Siracha hot chilli sauce

salt

4

garlic cloves

2

fresh red chillies

2

tbps

water
Instructions
Remove the skin from the pigeons and gently score the meat al over with a sharp knife. Cut the tops off the chillies and blend together with the garlic and water to form a paste. Rub all over the birds and season with salt.

Roast both birds for 15 minutes in a preheated oven at 175 degrees C and allow to rest for 5 minutes. Once cooked and cooled off slightly, strip the meat from the pigeons.

Blitz the anchovies to make a paste, and chop the spring onion and the coriander. Place the rice paper in a medium-hot pan and brush all over with the anchovy paste. Next, pour on the beaten eggs and spread evenly.

Once the egg is cooked, remove from the pan, add the shredded meat and spring onions and then add mayonnaise and chilli sauce. Top it off with some sesame seeds and coriander.

Fold in half or leave flat to serve.