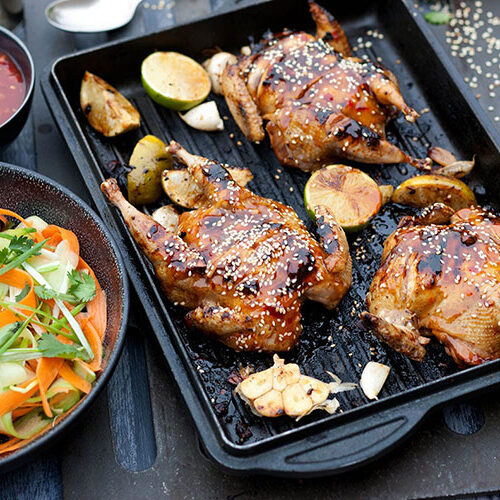 Griddled Szechuan Partridge with Oriental Ribbon Salad
One of our quick and easy recipes by Rachel Green. This is a fantastic, delicious way of cooking partridge. Spatchcock/butterflying is so easy have a go!
Ingredients
For the marinade
2

cm

finely grated peeled ginger

2

finely chopped garlic cloves

2

tbsp

rice vinegar

2

tbsp

sweet chilli sauce

2

tbsp

light soy sauce

2

tbsp

olive oil
For the salad
6

trimmed spring onions

cut into thin strips

2

peeled medium carrots

cut into ribbons

1

cucumber

cut into ribbons

1

handful

chopped fresh coriander
For the salad dressing
2

juiced limes

1

tbsp

soy sauce

1

tbsp

runny honey

1

tbsp

olive oil

1

tsp

cracked Szechuan pepper

1

tsp

toasted sesame seeds
Instructions
Butterfly the partridges by cutting out the backbone, using kitchen or game scissors, all the way to the neck cavity. Turn the partridge over and open it out, using the heel of your hand to flatten it out. In a small, bowl combine all the marinade ingredients. With a sharp knife slash the partridges all over and place them in a wide, flat dish in a single layer, Cover the birds in the marinade and leave for at least 1 hour in the fridge, Remember to remove the partridges from the fridge15 minutes before you are due to cook them.

For the salad, combine the spring onion, carrots, cucumber and coriander. Whisk together all the dressing ingredients, pour over the salad and keep to one side.

Preheat the oven to 200c (gas 6) Heat a griddle pan over a moderate heat until hot. Place the partridge skins down in the pan and brown them. Then, turn them over to seal the underside and spoon the remaining marinade over the top. Put the pan in the oven for 10-15 mins until the partridges are firm to touch. Allow ten minutes to rest.

To serve, sprinkle the toasted sesame seeds on the cooked partridges and serve with salad, lime wedges and sweet chilli sauce.