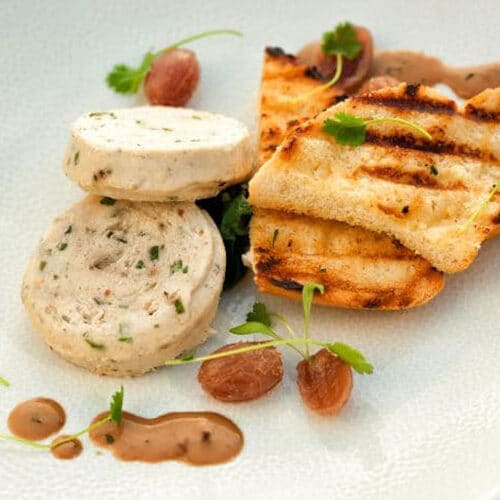 Warm Rabbit Mousse with Cream Sherry Sauce
Another of our quick and easy recipes by Taste of Game Chef Richard Hunt. This great starter dish will wow any dinner party or serve as a light lunch.
Ingredients
150

ml

game or chicken stock

75

ml

cream sherry

100

ml

double cream

2

tsp

flat leaf parsley

chopped

8

slices

of baguette

250

grams

diced raw rabbit

(sinew removed)

75

grams

cooked shredded rabbit leg meat

1

egg white

250

ml

double cream

1

tsp

chopped tarragon

20

grams

melted butter

salt and pepper
Instructions
Brush the inside of four ramekins or dariole moulds with melted butter and place in the fridge. In a deep-sided frying pan or a saucepan bring 3 inches of water to a gentle simmer.

To make the mousse, place the raw rabbit and the egg white into a food processor and pulse until smooth. Gently add the double cream, mixing all the time. Place the mix into a bowl and add the cooked rabbit, tarragon and seasoning. Mix well and place into a piping bag. Pipe the mix into buttered moulds, cover with the tin foil and place on a trivet in the simmering water for 10-12 minutes, or until the mousse is springy to the touch or the core temperature has reached 65c. Remove from the water and keep warm.

For the sauce, bring the sherry to a boil and let it reduce by one third. Add the stock and repeat the process. Finish by stirring in the double cream and chopped parsley.

Toast the baguette in a char-grill pan brushed with a little oil or under the grill

To serve, turn out the mousse onto a warm plate, drizzle all over with the sauce, and garnish with parsley and the crispy baguette. To add a retro feel, you can cut the bread into rabbit shapes!