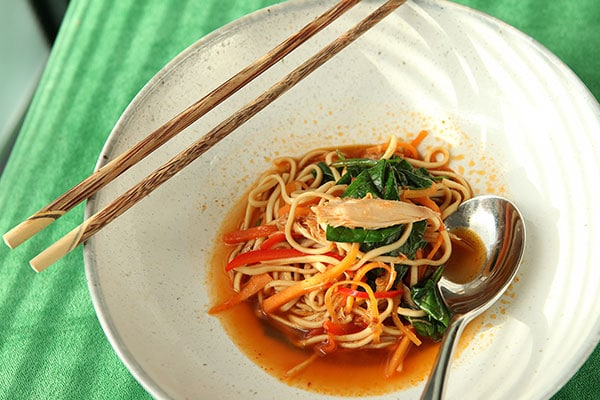 Korean spiced rabbit legs with rice noodles
Slow cooking rabbit legs in fat (to confit) is one of the best ways to approach them- this dish shows one of the many possibilities that can be done with the flavoursome, tender meat that it produces.
Ingredients
4

rabbit legs

8

bay leaves

4

sprigs of thyme

20

ml

sesame oil

2

cloves garlic

30

grams

ginger

1

tsp

dried chilli flakes

1

tbsp

Siracha hot chilli sauce

20

ml

soy sauce

15

ml

distilled vinegar

30

grams

brown sugar

500

ml

chicken stock made from a cube

2

handfuls

baby leaf salad

1

red pepper

1

carrot

4

spring onions

1

small bunch coriander

4

nests of rice noodles

vegetable oil
Instructions
Rub the rabbit legs with half the chilli flakes and season with salt and pepper. Place in a pan or oven-proof dish that is a snug fit as you will use less oil to cover the legs.

Add the bay leaf and thyme and pour in the oil until the legs are fully submerged. Cover with a piece of grease-proof paper and tin foil and bring up to 100 degrees C on the stove.

Transfer to the oven at 100 degrees C for 3 hours or until the meat falls away from the bone. Once cooled down, flake the meat with your fingers and discard the bones. Cook the rice noodles and keep to one side. Don't worry if they go cold, they will be heated up in the stock.

Grate the ginger and the garlic, then cut the red pepper and the carrot into thin strips. In a large pan, heat up the sesame oil and fry the ginger and garlic until fragrant. Then add the red pepper, the carrot and the remaining chilli flakes. Cook for another 2 minutes and add the vinegar, chilli sauce, soy sauce and sugar.

Pour in the chicken stock and return to the boil. Add the spinach leaves, and fold in the cooked noodles and the rabbit meat. Chop the coriander and slice the spring onions and sprinkle over the dish before serving.