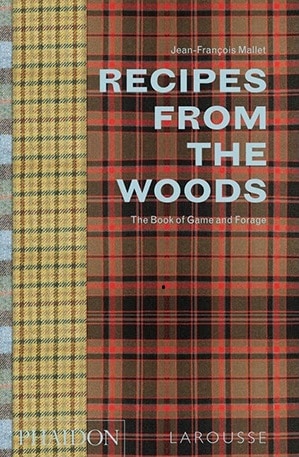 We have been very lucky to be allowed to use two recipes from Jean-Francois Mallets book RECIPES FROM THE WOODS.
A copy of the book can be purchased here
Respected French chef and writer, Jean-François Mallet and food authority Larousse present Recipes from the Woods, a book celebrating the bounty of wild food. The 100 delicious recipes featuring game and foraged ingredients showcase the pleasure of cooking from the woods.

Game has become extremely popular as home cooks and chefs alike have been adopting it more and more as an accessible ingredient, especially as it can be available beyond the short game season and is stocked more readily in shops and farmers' markets. Game is a wild, natural and free-range food source with a distinctive flavour making it a great alternative to farmed meats. Often healthier than processed alternatives as well as low in cholesterol and high in protein, game is one of the healthiest meats available today.

In Recipes from the Woods, Jean-François Mallet shows how to (re) introduce game and wild produce into an everyday kitchen in a light and refined way. He is keen to illustrate that cooking with these foods needn't be laborious and that simple preparation and cooking can reveal the true taste of the produce. His recipes provide the perfect opportunity for both hunters and contemporary urban cooks to expand their repertoire.
Credit:  Phaidon (www.phaidon.com).
To buy the recipe book 'Recipes from the woods' click here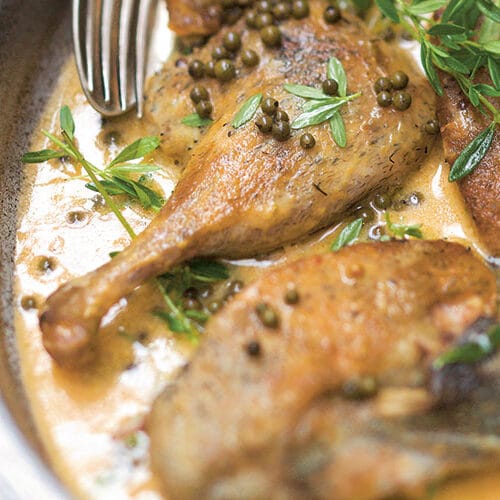 Mallard Ducks with Wild Thyme and Green Peppercorns
We have been very lucky to be allowed to use two recipes from Jean-Francois Mallets book RECIPES FROM THE WOODS.
Ingredients
2

mallard ducks

plucked, gutted and cut into pieces

1

tbsp

sunflower oil

2

tbsp

soy sauce

50

grams

green peppercorns in brine

drained

500

ml

whipping or double (heavy) cream

10

sprigs

wild thyme

salt
Instructions
1. Season the duck pieces with salt. Heat the oil in a large flameproof casserole (Dutch oven) over high heat, add the duck pieces and sear for 5 minutes until coloured on all sides.

2. Reduce the heat, add the soy sauce and deglaze the casserole by scraping the cooking juices o the bottom of the casserole with
a wooden spoon or fish slice (spatula) and incorporate into the soy sauce. Simmer for 5 minutes to reduce the liquid.

3. Add the green peppercorns and cream and simmer for about 25 minutes over low heat.

4. Add the thyme sprigs to the casserole, stir to mix, then serve.