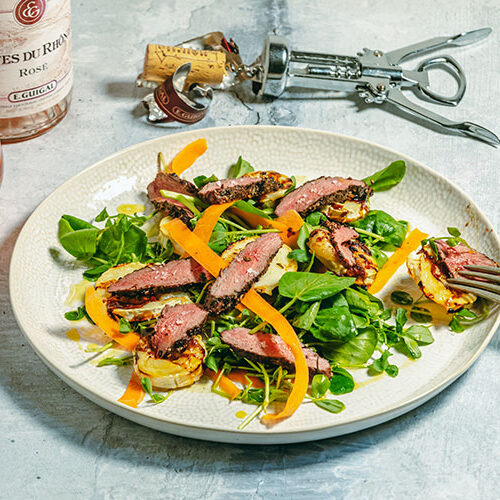 Peppered hare loin with goat's cheese
A fresh looking dish- careful not to overcook the hare loins. This dish also works well with pigeon breasts.
Ingredients
1

hare loin

125

grams

goats cheese

black and white peppercorns

crushed

2

juniper berries

1

tbsp

peanut oil

1

tsp

white wine

2

tsp

Balsamic vinegar
Instructions
Coat the loin with crushed black and white peppercorns plus a hint of juniper (one or two crushed berries are enough). The peppered loin can be wrapped in cling film and kept in the fridge ready for cooking.

Sear the loin briskly in a hot, well oiled frying pan, adding chopped rosemary for flavouring. Seal for two minutes each side. Set to one side to rest.

Dress a seasonal salad with a light vinaigrette of peanut oil and white wine vinegar – mixed in a ratio of four-to-one – plus salt and pepper to taste.

Splash balsamic vinegar over a thick slice of goat's cheese and sear briefly under the grill. Alternatively, bake the cheese in a warm oven for a couple of minutes to soften, then sear with a blow torch.

Place the cheese on a bed of the salad, slice the hare loin thinly and lengthways to make the slices as large as possible.