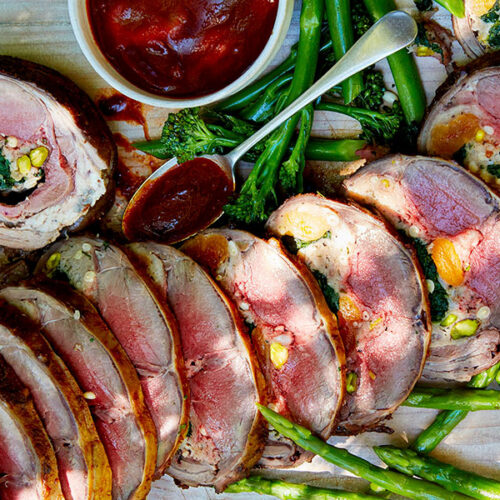 Roast saddle of venison with fruity stuffing
Ingredients
2

kg

venison saddle

600

grams

sausage meat

60

grams

skinned pistachio nuts

60

grams

pine nuts

2

tsp

chives

2

tsp

thyme

600

grams

spinach

120

grams

dried apricots

2

tsp

sweet smoked paprika

2

tsp

onion powder

1

tsp

garlic powder

2

tbsp

olive oil

salt and pepper

1

brown onion
Instructions
Debone the venison saddle. Finely chop the fresh chives, thyme and the onion then mix with the sausage meat and all the nuts in a bowl. Season to taste.

Wash the spinach and blanch in salted water for 20 seconds. Drain and refresh in cold water. Carefully squeeze all the water out and roughly chop.

Lay a piece of cling film out on a chopping board, place the sausage mix on it and cover with another piece of cling film. Using a rolling pin flatten the sausage meat into a square roughly the same size as the venison.

Remove the top layer of cling film, season and add the apricots, pressing them down into the meat. Place the spinach on top and season again. Carefully roll the sausage meat into a cylindrical shape and place in the fridge for 20 minutes.

Lay out the venison bottom up and season with salt and pepper. Carefully remove the cling film and place the sausage meat roll in the centre, filling the space where the backbone was. Wrap the venison around the stuffing so both ends overlap and the stuffing is completely enclosed. Using butchers string, tie six knots around the joint to hold it in place.

Mix the sweet smoked paprika, the onion and garlic powders and 2tbs of olive oil. Place the venison joint on kitchen foil (shiny side in) ensuring the meat overlap is facing down. Brush the paste all over the meat and wrap in foil. Crimp the two ends of foil over the top to form a seal.

Place the joint on a baking tray and in a pre heated oven at 220 degrees centigrade for 10 minutes. Then turn the temperature down to 180 degrees and cook for a further 35 minutes.

After 35 minutes the core temperature should be at 56 degrees centigrade. Take it out the oven and pierce the foil at the bottom of the joint allowing the liquid to drain out.

Remove the foil and increase the heat to crisp up the joint for about 8 minutes. Allow the joint to rest uncovered in a warm place for 15 minutes. Serve with your favourite chunky sauce.