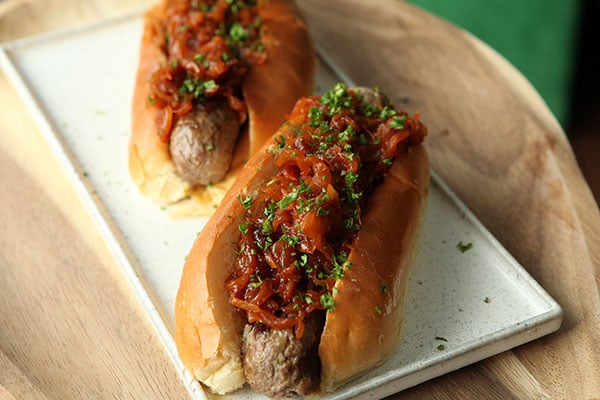 Venison hot dogs with onions
Using this poaching method its really easy to make venison sausages at home without all the equipment- Tony Singh's recipe serves them up with some sweet, slow cooked onions in a hot dog.
Ingredients
750

grams

venison shoulder

400

grams

pork belly

1

onion

3

garlic cloves

1

tsp

ground coriander

1

tsp

ground nutmeg

1

tsp

sweet paprika

3

tsp

ground pepper

1

tsp

salt

2

tsp

English mustard

60

ml

milk

1

egg

oil

2

tbsp

vegetable oil

2

onions

2

tbsp

ketchup

1

tsp

brown sugar

0.5

tsp

salt

0.5

tsp

chilli powder

3

tbsp

water
Instructions
Dice the venison and pork and freeze for about 1 hour. Once frozen, mince finely and mix them together. Blend the salt and the spices with the egg, mustard and milk. Pour over the mince and combine.

Grate the onion and, using a cloth, squeeze out all the juice. Keep the pulp. Finely grate the garlic cloves, then add both the onion pulp and the grated garlic to the mince and mix well. Place in the fridge to chill.

Pipe the chilled mince mix into sausage skins. Alternatively you can also roll the mix in cling film to poach. If poaching, cook in simmering water for 8 minutes. Take out and let the mince rolls cool enough to handle before removing the cling film. You can keep them in the fridge for 4 days with the cling film on.

For the onion topping

Slice the onions as thinly as you can and heat the oil in a large pan over medium heat. Add the onions, salt and sugar and cook for about 10 minutes, stirring occasionally until the onions are slightly browned and somewhat soft.

Add the water and cook for another 10 minutes with the lid on, stirring every 2 minutes. Then add the ketchup and the chilli powder. Mix well and cook for a further minute.

To serve, if you have decided to poach the sausage, take off the cling film. In either case, fry the sausages in the pan with a little oil to brown.

Serve the hot dogs immediately with the onions and mustard in a hot dog bun.