The White Hart at Somerton's Harissa Spiced Partridge was devised by Head Chef Tom Blake. Tom was Head Chef at Hugh Fearnley-Whittingstalls River Cottage before moving to the White Hart.
His philosophy is simple: 'take good, organic, local ingredients and let them sing'
The White Hart has been trading as a pub since the 16th century and was totally renovated in 2103. The pub sits on the market square Somerton in Somerset and has eight stunning bedrooms
Tom also oversees the Swann Inn in Wedmore.
Tom says 'there is nothing quite as intoxicating as the heady smell of roasting harissa spices' The paste keeps well in the fridge for several weeks. Smeared on these partridge it gives them a real depth and warmth of flavour.
Tom recommends serving them on fragrant spiced potatoes with a fresh and minty yoghurt. Partridge takes 20 minutes to roast in the oven so is perfect for a mid week dinner.
We recommend you make the harissa paste for the taste, but for ease it can be brought in your local deli or supermarket.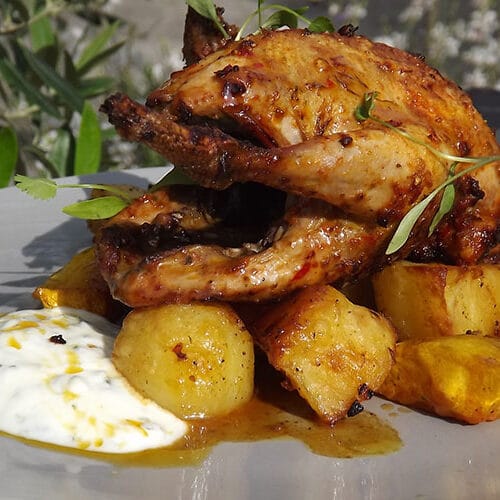 Harissa Spiced Partridge
Harissa spiced partridge with fragrant spiced potatoes and squash
Ingredients
4

partridge

1/2

glass

dry white wine

400

grams

jersey royal potatoes

cooked skins on or off

1

butternut squash

peeled and diced 1 inch squares

2

cardamom pods

cracked

1/2

tsp

caraway seeds

toasted

handful

fresh coriander

chopped

2

cloves

garlic

grated
For the harissa paste
250

grams

fresh red chillies

sea salt

3

tsp heaped

ground caraway

3

tsp heaped

ground cumin

1

tsp heaped

ground coriander

4

cloves

garlic

1

tbsp

tomato ketchup

1

tbsp

cider vinegar

4

tbsp

smoked paprika
Instructions
For the paste: Grill the chillies and remove the skins

Blend all the ingredients together in a mixer into a thick paste.

Pre-heat the oven 180c.

Place the chopped potatoes, butternut squash, caraway, cardamom and garlic into a heavy based tray. Dress with rapeseed oil and season

Roast in the oven until the vegetables start to caramelise then remove from the oven (20-25 mins)

For the birds: Rub 1 level tsp of the harissa paste onto each bird (more if you like it spicy)

Roast the birds for 18 mins. and then leave to rest

Place the roasting tin on the stove and de-glaze with the wine. Let the wine and roasting juice bubble down to make a sweet and spicy sauce.

Put the potatoes and squash back in the oven to crisp up whilst the bird is resting and you are making the sauce.

Serve with a fresh minty yoghurt