The White Hart at Somerton's Venison Tagine with butternut squash, apricots and barley was devised by Head Chef Tom Blake. Tom was Head Chef at Hugh Fearnley-Whittingstalls River Cottage before moving to the White Hart.
His philosophy is simple: 'take good, organic, local ingredients and let them sing'
The White Hart has been trading as a pub since the 16th century and was totally renovated in 2103. The pub sits on the market square Somerton in Somerset and has eight stunning bedrooms
Tom also oversees the Swann Inn in Wedmore.
Tom's other recipe Harissa Spiced Partridge can be found under Partridge in the recipe section.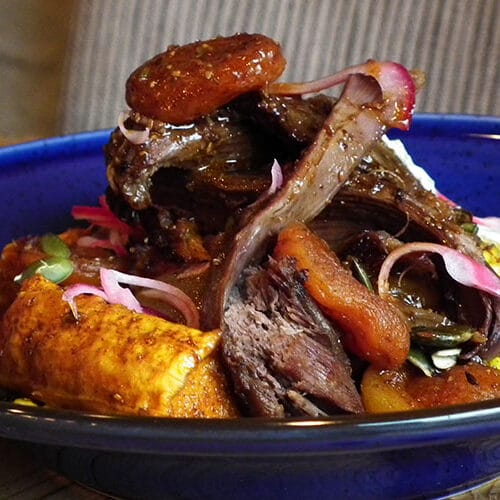 Venison Tagine
Venison Tagine with butternut squash, apricots and barley
Ingredients
1.5-2

kg

venison shoulder

whole on the bone

2

tbsp

Raz el hanout spice mix

1/2

tsp

dried chilli

more if you like it hot

4

cloves

garlic

grated or minced

200

grams

unsalted butter

softened

1

onion

roughly chopped

2

carrots

peeled and chopped

1

butternut squash

peeled and chopped into cubes or wedges

1

handful

dried apricots

chopped

1

glass

dry white wine

sugar

1

cider vinegar

1

small bunch

fresh coriander

300

grams

barley

1

pinch

saffron

4

cardamon pods

16

floz

chicken stock
Instructions
Pre-heat the oven to 180c

Mix the Raz el hanout spice with the chilli, garlic and 2 tbsp of oil to make a paste.

Using a small paring knife, carefully pierce holes into the flesh of the venison

Season the venison and place on a heavy based tray with the vegetables.

Rub the mix paste into the meat ensuring it goes into the cavities you have made

Brown the meat for 15-20 minutes, you do not want to burn the spices or dry out the meat.

When the meat and vegetables are nicely browned add apricots, sugar, vinegar, wine and butter with a small glass of water and chopped coriander stems.

Cover tightly with baking paper and tin foil and cook for 4 hours at 130c. Do not leave any gaps in the foil or the meat will dry out.

For the barley: Fry the barley with the cardamom on a medium heat stirring occasionally to ensure it does not burn

Add the chicken stock and the saffron while the pan is still hot then quickly cover and turn down low.

Continue to cook on a low heat for another 25 minutes then remove from the heat and leave to sit with the lid on for another 5 minutes before serving. DO NOT STIR

The meat should be soft and come away from the bone. The butter should keep it moist

Finish the venison by stirring the chopped coriander leaves into the meaty vegetable base then serve with the fragrant barley and some natural yoghurt.