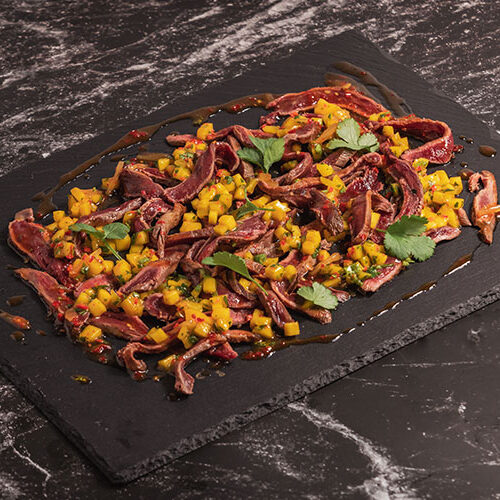 Sweet chilli glazed duck carpaccio with mango salsa
An elegant starter perfect with wild duck
Ingredients
2

large red chillies

for the sweet chilli sauce

500

ml

white wine vinegar

for the sweet chilli sauce

2

tbsp

honey

for the sweet chilli sauce

2

balls

glace stem ginger

for the sweet chilli sauce

3

mallard breasts

1

mango

finely diced

juice of two limes and zest of 1 lime

1

tsp

finely chopped red chilli

0.5

tsp

sugar

1

tsp

chopped fresh coriander

olive oil

vegetable oil
Instructions
Sweet chilli sauce
Cut the chillies in half and remove the seeds. Slice the chillies into very tin strips and then chop finely. Add some vegetable oil to a pan when the oil is hot quickly stir fry the chilli until you can see the oil going a reddish colour.

Add white wine vinegar and bring to boil. Add the honey.Cut the stem ginger into slices and then strips then add this to vinegar and honey mix.

Allow to reduce by half. The dressing should have thickened slightly so that it just coats the back of a spoon when it goes cold it will become a lot thicker so do not reduce too much.

Taste and if too sharp add a little more honey before chilling down.
For the carpaccio
Remove the duck skin from the breasts and any sinew.Season and pan fry the duck breasts in very hot smoking vegetable oil just to seal but not cook then allow to cool.Once duck breasts are cold generously cover with sweet chilli sauce and leave for a couple of hours turning every now and then.

Remove the duck from the sauce and place onto a large piece of cling film brush over with some of the sauce then wrap up in cling film and place in freezer to firm up so that it will be easier to cut.

When the duck is firm but not frozen take out of freezer. Remove cling film and slice with a sharp knife into slices about 3 mm thick lay these out on plate and sprinkle with the mango.

Place into bowl lime zest, lime juice, olive oil, chilli, sugar and chopped coriander mix well and season to taste spoon dressing over the duck and serve.