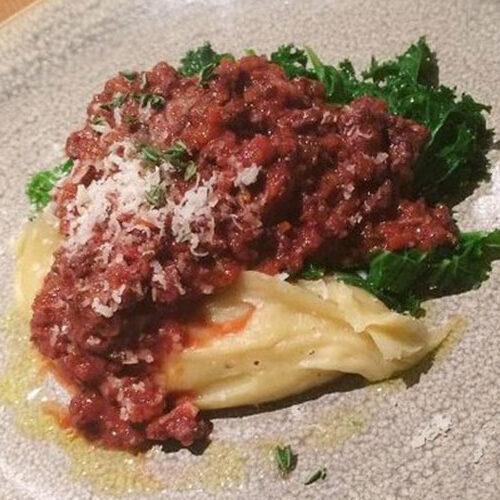 Venison Ragu
This recipe was given to us by Josephine O'Hare after posting it on Twitter as dish she had just cooked for her father it is tasty and easy to do. 
Joey is a Private chef, London. Masterchef the Professionals, 2015 final 12.
Always seasonal. Often the Paleo Diet. Mad on salads.
Loves cooking with game
More details can be found on
www.josephinescooking.com
Ingredients
1/2

brown onion

2

stalks

celery

1

carrot

1

garlic clove

fresh thyme

2

rashers

dry cured streaky bacon

300

grams

minced venison

salt and pepper

3

tbsp

tomato puree

300

ml

red wine

100

ml

brown chicken stock

1

anchovy

1

bay leaf

1

square

70% dark chocolate
Instructions
Finely dice the brown onion, carrot, celery and garlic, and strip the thyme from the stalks and finely chop. Alternatively, for a smoother rage, blitz these ingredients in a food processor till finely chopped (although not a slurry!).

Chop the bacon finely too.

Heat a small knob of butter in a medium saucepan, or your cooking oil of choice. Add the bacon and gentle fry for two minutes, allowing the fat to render. Add the finely chopped vegetable and continue to cook on a medium heat for approximately 8 minutes.

Add the venison mince, and turn up the heat a little. Season with salt and pepper. Fry this for approximately 8 minutes, until any water or liquid has evaporated. Add the tomato puree, and then the red wine. Allow the red wine to bubble for a few minuets before adding the stock, bay leaf and anchovy.

Turn the heat down low and allow the ragu to simmer as gently as possible for approximately 75 minutes. Always turn the heat off and allow the ragu to stand for at least 15 minutes before serving. While the ragu is resting, stir through a square or two of dark chocolate. (It's best not to bring the ragu back to the boil once the chocolate has been added).

Delicious with spaghetti, parmesan and rocket, or equally with mashed potato and/or parsnip puree and kale! Perhaps garnish with a few curls of parmesan and some fresh thyme leaves.