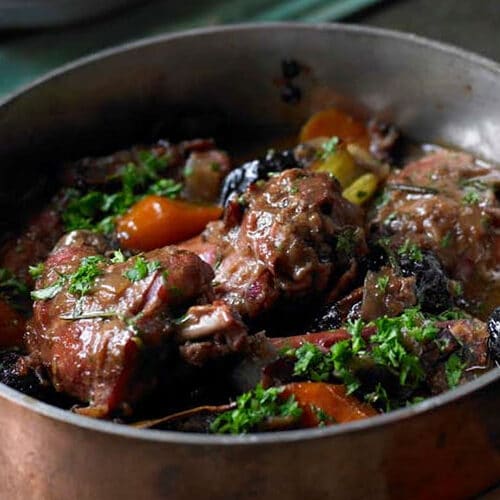 Drunken rabbit with wild rice and fennel flatbreads
Drunken rabbit, wild rice and fennel flatbreads from Mark Lloyd
Mark says:
A big bowl full of rich, dark, boozy rabbit casserole with heartier mixed wild rice and quick flatbreads for mopping up the rich gravy that I never want to waste.
Remember to always buy rabbits and game from a reputable dealer and be cheeky; get them to joint it for you!!
This is a recipe that starts on the stove top and then slowly cooks in the oven, perfect for a lazy autumn afternoon.
Cook, wild food expert, stockman, hunter, fisherman, author, presenter and Food waste warrior…… 
Renowned for his British wild food knowledge and true farm to fork ethos, he honed his skills in top establishments both in the UK and Europe. These skills saw him head up the first River Cottage Canteen. 
Mark has a passion for shooting, fishing and foraging, also has reared his own livestock, set up chemical free kitchen gardens, poly tunnels and even a heritage orchard. 
Mark has an amazing understanding of kitchen gardens and animal husbandry, utilizing every part of the animal and also a lot of the weeds!!! 
His talents don't end there, writing features on wild food for some of the top food publications, including BBC Good Food Magazine, Harrods, Elle, and NFU magazine. 
Mark was also Brand Ambassador/Executive Chef for premium appliance company Miele for 2010-2012. 
Mark creates amazing recipes with the best offered by Britain's Larder and we have four on the Taste of Game website.
Drunken rabbit, wild rice and fennel flatbreads
Venison Wellington, rosemary and redcurrant sauce, steamed greens
Dukkah Partridge
Pot roasted pheasant, properly garnished
Ingredients
2

large

rabbits

jointed

3

rashers

smoked bacon

cut into thin strips

2

carrots

peeled cut into large diced

1

onion

cut into large diced

2

sticks

celery

chopped

1

glove

garlic

crushed

2

sprigs

thyme

1

bay leaf

250

ml

chicken stock

150

grams

prunes

50

ml

Armagnac or brandy

50

grams

soft brown sugar

150

ml

good red wine

salt and pepper

flour for dusting
For the rice
300

grams

mixed wild rice

400

ml

water

1

tsp

salt
For the flatbreads
150

grams

plain flour

15

grams

yeast

75

ml

warm water

2

tbsp

olive oil

2

tsp

fennel seeds
Instructions
Heat the oven to 150c

For the Drunken Rabbit:

Place the prunes in a bowl and massage in the Armagnac and brown sugar, then set aside.

Place a large, deep casserole over a medium heat and add a good glug of vegetable oil. Dust the rabbit joints with the flour, pat off the excess and fry gently, turning to get an even, brown colour. Remove the rabbit and then add all the chopped vegetables, bacon, herbs and garlic.

Fry gently for 5-8 mins, until just starting to colour, then add the red wine, increasing the heat and stirring to remove the browned flour from the bottom, which helps to thicken the gravy, add the chicken stock, rabbit pieces and the boozy prunes.

Cover the casserole and place in the middle shelf of the oven for 50 minutes.

For the wild rice:

Give the rice a good wash under cold, running water.

Place the stock, water and salt into a pan large enough to hold the rice and bring to the boil. Add the rice and cook for 8-10 mins, depending on how you like your rice, wild rice can be slightly chewier than white rice so may need a little more cooking. Once cooked, pour into a sieve and run under cold water until completely cold.

For the Flatbreads:

In a food processor, add the flour, oil, yeast and water, and then pulse until it forms dough.

In a dry frying pan over a low heat, gently fry the fennel seeds to release their flavour, once you can smell the fennel they are usually ready. Allow them to cool.

Remove the dough to a bowl and add the cooled fennel seeds, quickly knead them in, cover the bowl with cling film and put somewhere warm until the dough doubles in size.

When it has doubled in size, place a frying pan over a medium heat, tip out the dough and pinch off golf ball sized pieces; roll them in your hands then roll flat with a rolling pin.

Place them in the pan over a medium heat, a griddle pan is best and gently cook, the thinner you roll them, the faster they cook. Once browned on one side, flip them over and finish cooking.

To serve:

Remove the casserole and stir gently, checking the rabbit is soft and starting to come away from the bone, taste for salt and pepper.

Return the rice to a pan of boiling water for 1 minute, drain and spoon into the centre of a large plate, place the rabbit pieces on top of the rice, remembering all those braised vegetables and rich gravy, finally a couple of warm flatbreads on the side.