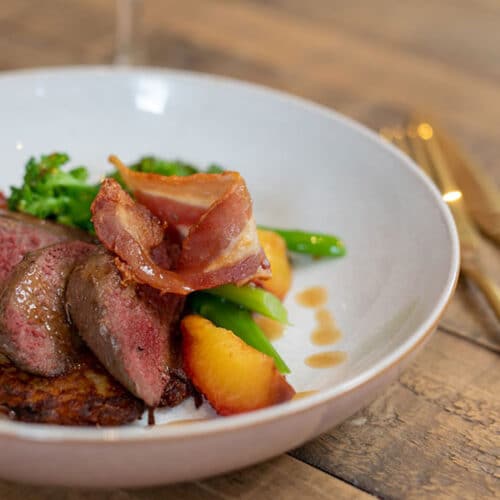 Grouse breasts with a potato rosti, roasted plums & bacon
An ideal dish for young grouse breasts early in the season.
Ingredients
6

Grouse breasts

250

ml

chicken stock or game stock

1

tbsp

plum sauce

4

plums

halved and de-stoned

1

tbsp

clear honey

4

Maris piper potatoes

1

tbsp

fresh thyme leaves

200

grams

purple sprouting broccoli

2

sprigs

rosemary

4

rashers

smoked streaky bacon

75

grams

butter

salt and pepper

vegetable oil
Instructions
Make the potato rostis in advance. Preheat the oven to 180°C.

Peel and grate the potatoes using a coarse cheese grater.

Squeeze the peeled potatoes in a tea towel over the sink to remove excess water until you dry.

Place into a mixing bowl, add the thyme leaves and season generously with salt and pepper. Mix well.

Heat a solid frying pan over a medium heat and add a splash of vegetable oil followed by 50g butter.

As the butter melts and starts to foam, divide the potato mix into 4 flat cakes.

Put the potato cakes in the pan and cook for 6 minutes, or until golden, on one side, then turn and cook for further 5 minutes on the other side. Transfer the rostis onto a baking tray.

Place the halved plums in a tight-fitting baking tray, add the honey and a little oil and roast in a hot oven at 180°C for 8 minutes.

Remove the grouse breasts from the fridge to reach room temperature.

Place a frying pan on a medium high heat.

Add a light splash of oil and fry the bacon on both sides until crispy.

Remove the bacon, reserve the pan juices, and keep the bacon warm.

Return the pan to the heat and season the grouse breasts with salt and pepper.

Place in the breasts skin side down in the pan and cook on a medium high heat for 3 minutes.

Turn the breasts over and add the remaining butter and rosemary in.

Baste the breasts as the butter foams for 2 minutes.

Remove breasts from pan and allow to rest in a warm place.

To assemble dish, add the roasted plums to the warm sauce.

Slice the grouse breasts in half.

Plate each dish with a rosti, broccoli portion, three grouse slices and drizzle with sauce over the top. Divide the plum pieces among the dishes.

To finish, add a rasher of crisp bacon and serve straight away.