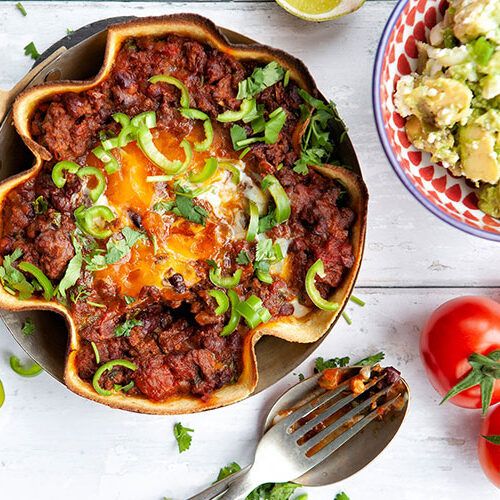 Mexican Spiced Venison with Baked Egg and Smashed Avocado
A Mexican twist on Wild British Venison, perfect as a brunch option.
Ingredients
250

grams

feta cheese

2

ripe avocado

2

tbsp

lemon juice

1

bunch

coriander leaves

roughly chopped

3

tbsp

mint leaves

roughly chopped

4

tbsp

olive oil

1

brown onion

finely chopped

1

tbsp

cumin seeds

2

tsp

ground allspice

1

tbsp

smoked paprika

1

tsp

dried oregano

1

tsp

black pepper

2

tsp

salt

2

tbsp

tomato puree

2

green chillies

chopped

3

finely chopped garlic cloves

450

grams

venison mince

2

tins

chopped tomatoes

150

ml

beef stock

1

tin

aduki beans

4

large flour tortillas

150

grams

grated mature cheddar cheese

4

eggs
Instructions
Preheat the oven to 180°C/350°F/Gas Mark 4

Start by preparing the smashed avocado. Scoop the avocado into a mixing bowl and smash it roughly. Crumble the half the Feta over and gently fold in the lemon juice and mint. Season with a little salt and black pepper. Cover and leave to one side.

Heat the olive oil in a frying pan over a medium heat and add the onion to the pan. Cook the onion for 2 minutes and then add all the spices. Cook for a further 2 minutes stirring all the time and then add the tomato purée. Add the chilli, garlic and mince, breaking up the meat as it cooks. Keep turning the meat in the pan until it is browned all over. This will take about 4-5 minutes.

Then add the tomatoes, aduki beans and stock and simmer for 25-30 minutes, adding a little more stock if necessary. Season with a little salt and pepper and add the coriander leaves.

Lightly oil 4 small frying pans and lay the tortillas into them. Divide the meat mixture evenly between the pans making a hollow in the centre. Break an egg into each hollow and scatter with some grated Cheddar. Place in the oven for 8-10 minutes until the eggs are nearly cooked. Alternatively, place the meat in a shallow casserole, make 4 hollows in the top of the mixture, break in the eggs and bake in the oven for 8-10 minutes. Once the eggs are nearly cooked, remove from the oven, scatter some coriander leaves over and serve with warm tortillas on the side.

Serve immediately with a good dollop of the smashed avocado and the remaining Feta scattered over.