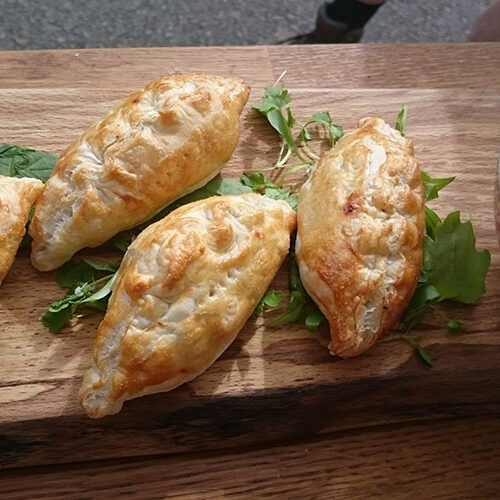 Grouse Empanadas
This is a great way to try Grouse, this easy recipe is a delight to make and delicious. Grouse is a very healthy meat as it is very low in fat
Ingredients
10

Grouse breasts

chopped

10

Grouse legs

de-boned and chopped

500

grams

ready made puff pastry

0.5

tsp

oregano

0.5

red pepper

finely chopped

0.5

green pepper

finely chopped

4

cloves

garlic

crushed

1

shallot

finely chopped

1

tsp

ground cumin

1

zest

lemon

1

beaten egg
Instructions
Firstly sweat the shallot, peppers, garlic, oregano, cumin and lemon zest until tender, season with salt and pepper and leave to cool.

When cool add the grouse leg meat.

Pan sear the grouse breasts for 2-3 minutes each side, season and leave to cool for 10-15 minutes.

Slice the grouse thinly and add to the pepper and leg mix.

Roll out the dough to about 1/8 inch thick and cut into rounds 5-6 inches in diameter.

Place a spoonful of the grouse mix in the centre of each disc, but do not overfill, you can make them as small or as large as you wish.

Brush the edges with beaten egg, fold over and press the edges with a fork to make a great seal, you can refrigerate these now and cook them up to 3 hours later.

Pre heat your oil to 170-175c and fry the empanadas to crisp and golden or you can glaze them with a little beaten egg and bake in a hot oven 210c for about 10-15minutes until golden brown.

Serve immediately with a rich garlic aioli.