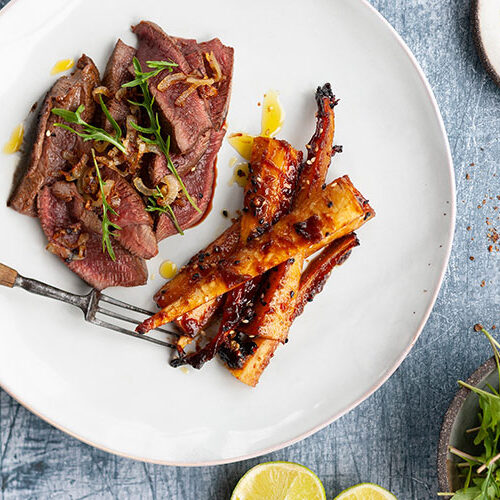 Tamarind Venison Steak with Miso Parsnips
This is a recipe from Taste of Game chef Rachel Green who always packs loads of flavour into her dishes.
Ingredients
50

grams

tamarind paste

6

tbsp

soy sauce

4

tbsp

hot water

2

tbsp

sunflower oil

2

tbsp

runny honey

4

200g venison loin steaks

50

grams

white miso

1

tbsp

sweet chilli sauce

2

tbsp

olive oil

6

parsnips

1

tbsp

black and white toasted sesame seeds
Instructions
Preheat the oven to 200°C/400°F/Gas Mark 6

Put the tamarind paste, 4 tbsp of soy and hot water into a small saucepan over a low heat and stir until the tamarind has dissolved. Transfer to a bowl and whisk in the oil and half the honey. Put to one side and allow to go completely cold.

Put the venison loin steaks into a freezer bag and pour in the cold marinade, massaging the steaks completely cover with the marinade. Put the bag in the fridge and leave for at least 1 hour but up to 4 hours if possible.

For the parsnips, in a large bowl combine the miso, oil, sweet chill sauce and remaining honey & soy. Toss the parsnips into the mixture to coat. Line a roasting tray with baking parchment and lay the parsnips on top. Roast the parsnips in the preheated oven for 25 minutes turning halfway through the cooking time until they are sticky and browned. Toss in the sesame seeds.

Whilst the parsnips are cooking, remove the venison steaks from the fridge and allow them to come back to room temperature.

Heat a griddle or frying pan and sear the venison steaks on all sides until a dark golden brown on the outside which will take around 2 minutes. Reduce the heat and allow to cook for a further 3-5 minutes until cooked to your liking.

Serve immediately with the miso parsnips and a little rocket scattered over.