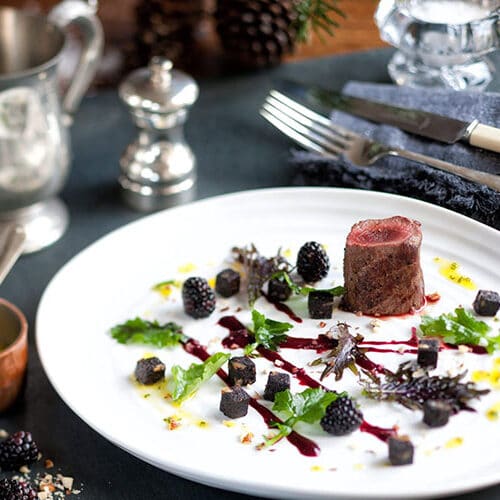 Venison with Blackberries & Warm Salad of Black Pudding, Wild Mushroom & Kale
An elegant restaurant style dish…
Ingredients
50

grams

black pudding

cut into 1cm cubes

400

grams

loin venison

6

tbsp

olive oil

2

tsp

Dijon Mustard

1

tbsp

cider vinegar

1

bunch

chives

finely chopped

1

tbsp

hazelnuts

finely chopped

50

grams

baby kale leaves

200

grams

blackberries

100

grams

mixed wild mushrooms

15

grams

caster sugar

1

tsp

vanilla extract
Instructions
Put 150g blackberries and the sugar into a small pan with 50ml of water. Bring to the boil, then simmer for 5 mins until the fruit is soft. Stir in the vanilla, remove and cool a little. Whizz to a purée, using a stick blender then strain through a sieve, rubbing it through with the back of a ladle or spoon discarding the seeds left in the sieve and keeping the puree.

Make the dressing- whisk together in a bowl 3 tbsp olive oil, Dijon mustard, cider vinegar and chopped chives and set aside.

Heat 1 tbsp of olive oil in a small frying pan over a medium heat and when hot cook the black pudding until crisp, remove from pan, place on kitchen roll and keep warm.

Sauté the mushrooms in a little olive oil, drain on kitchen paper and keep warm.

Gently toss the hazelnuts, kale leaves, whole blackberries, cooked black pudding and cooked mushrooms together and mix with half of the dressing.

Scatter the salad around the plate, carve the venison and place on one side of the plate, drizzle some of the blackberry puree around and finish with the rest of the dressing.