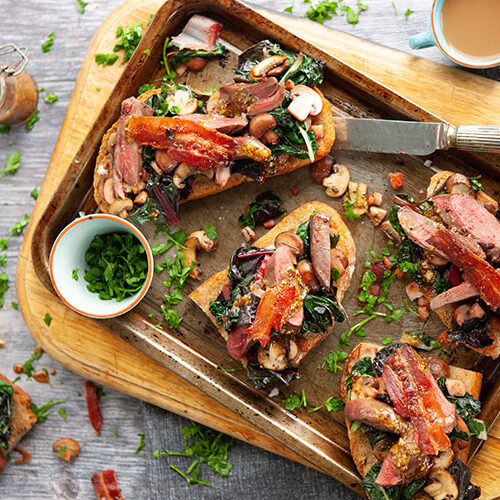 Pan fried wood pigeon, chard and smoked bacon on fried sourdough with mustard dressing
Works as a starter, snack or brunch
Ingredients
1

tbsp

whole grain mustard

1

tbsp

honey

1

clove garlic, peeled and crushed

2

tsp

balsamic vinegar

1

tbsp

sherry vinegar

6

tbsp

olive oil

salt and pepper

100

grams

smoked bacon lardons

4

slices

sourdough bread

50

grams

butter

200

grams

chestnut mushrooms, sliced

2

finely chopped garlic cloves

300

grams

Swiss chard, stalks removed, leaves cut into quarters

8

wood pigeon breasts

1

handful of chopped parsley, to serve
Instructions
Start by making the mustard dressing.  Put the mustard, honey, garlic and vinegars into a food processor and whizz together.  Slowly add 3 tbsp of olive oil.  Season with a little salt and pepper and leave to one side.

Heat 2 tbsp of olive oil in a large frying pan and fry the lardons for about 3-5 minutes until starting to crisp.  Transfer to a plate using a slotted spoon.  Fry the bread slices in any left-over bacon fat for 1 minute on each side until crisp and golden, adding more olive oil if necessary, and then transfer to a plate. 

Add half of the butter to a pan, cook the mushrooms, add the garlic and season with a little salt and pepper before adding the chard.  Turn the heat up to high and stir-fry until the chard has wilted.  Season with a little salt and pepper.

Season the wood pigeon breasts generously with some salt and pepper.  Heat the remaining butter and olive oil in the pan until sizzling and fry the wood pigeon breasts, skin side down, for 2minutes on each side until golden, basting the breasts as they are cooking.  Transfer to a board and allow to rest for about 5 minutes.

Divide the chard mixture between the fried bread slices.  Slice the wood pigeon breasts and arrange over the chard.  Spoon over the crispy bacon, drizzle over the mustard dressing and scatter over the chopped parsley- a delicious brunch dish.