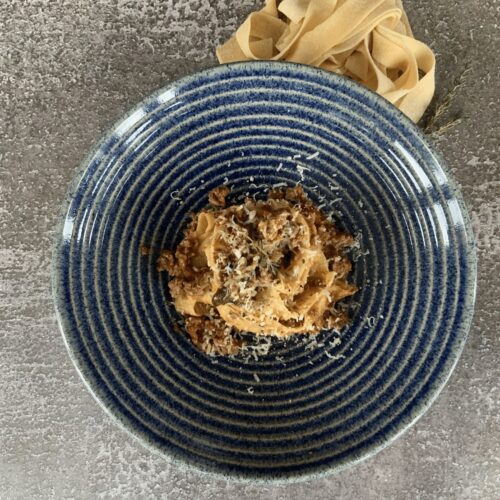 Pappardelle with venison ragu'
Rustic Italian cooking at its best.
Ingredients
500

grams

venison mince

1

finely chopped banana shallot

1

peeled and finely chopped carrot

0.5

finely chopped celery stick

100

grams

diced pancetta

2

sprigs

thyme

2

sprigs

rosemary

1

tsp

black peppercorns crushed

2

cloves garlic- peeled and crushed

2

sage leaves

1

tsp

juniper berries crushed

1

tsp

fennel seeds crushed

1

tsp

sweet paprika

80

ml

red wine

400

grams

tinned chopped tomatoes

2

tbsp

tomato puree

4

tbsp

extra virgin olive oil

100

grams

grated parmesan cheese
Pasta
3

eggs

200

grams

'00' flour

100

grams

durum wheat semolina

1

pinch

salt

1

tbsp

extra virgin olive oil
Instructions
Place the pancetta in a heavy based preferably cast-iron pan, on a medium heat. Once the fat has been well rendered, add oil and let it warm up and then add the finely diced shallot, carrot, celery and sautee until soft. Add the thyme, rosemary, juniper berries, peppercorns and fennel seeds and continue cooking for 3-4 minutes.

Add the mince (preferably at room temperature) and brown and mix well with the vegetables and herbs. Add the wine and let it evaporate (there should not be any smell of alcohol left).Add the chopped tin tomatoes and the tomato puree, stir well, close the lid and let it simmer on a low heat for an hour.

If the mixture becomes too thick add some boiling water – this should not be necessary as water will be released by the tomatoes: be patient.

Season to taste towards the end.

 

When the pasta is cooked (durum wheat Gragnano needs 10 minutes whereas home-made pasta just a couple of minutes), place the sauce in a large pan on a medium heat, add some of the cooking water, add the pasta and mix well.

Add the parmesan and serve at once!
Pasta
Remember the eggs must be at room temperature to allow a smooth amalgamation of all the ingredients. Place both types of flour and salt on a table and create a well in the centre. Crack your eggs in it and slowly incorporate the flour in the eggs using a fork. Work the pasta mix until all the flour is incorporated. At this point use your fingertips to knead the dough and keep working it until it is well kneaded. This can take up to 15 min.

 

To make pasta making an enjoyable experience, remember to squeeze the dough in your fingers with some force. If the dough sticks to the tip of your fingers, it will probably also stick to your pasta machine! If that is the case, take the dough back to the counter and add a small amount of flour and incorporate by kneading it further. Rest the dough well wrapped in cling film for 15 -20 min. Remember that when you unwrap the dough after resting it, it will have a totally different texture, so take it back once more to the counter for a little dusting.

Get the equivalent of half of the dough and form with your hands a regular ball flattened it with the rolling pin in a lightly floured surface. Pass the dough on the lower dial of the machine.

Repeat the above and fold the dough in two and pass it though the machine again until the dough is perfectly smooth. At this point start to tighten the dial (from 1 to 6) and pull the pasta until you achieve the wanted thickness. Usually, for pappardelle, I would stop at dial 5 for a rustic result. Remember to use some semolina to generously sprinkle the finished product to avoid sticking.

 

For the durum wheat pasta, use 70gr per person of Gragnano type pasta (ideally conchiglioni, tortiglioni, lumaconi or similar so that they fill with plenty of sauce) available from top end supermarkets and Italian delis. Tip: do not underestimate the quality of pasta and use plenty of water (1 litre every 100 gr of pasta).
Notes
This very rustic and yet sophisticated dish comes from northwest of Italy. Venison mince has even greater texture with the addition of some pancetta. It is ideal for children thereby introducing them to both pasta and a different, healthier red meat.
Durum wheat pasta can be used to replace the hand made one but in this case a top of the range brand should be used to complement such a high quality product. Gragnano type pasta is ideal as it retains an al dente texture, has a lower GI and its greater porosity and coarseness is the ideal companion for this rich sauce.
This recipe is supplied by Sara Danesin https://www.saradanesinmedio.com/