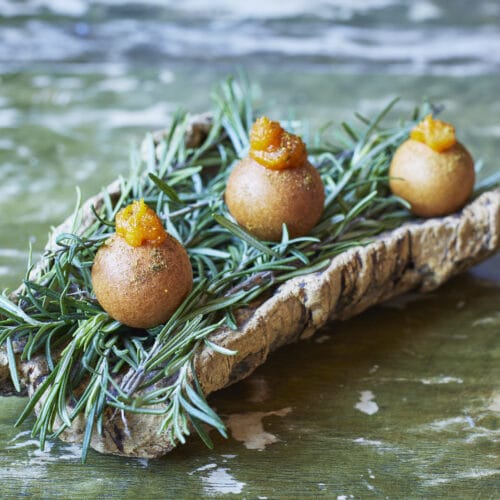 Venison dumplings
This is a great party recipe, and although it does require a bit of time to prepare, it will be a guaranteed winner. You can make a bigger batch of the mix and freeze some for another time. Serve with a sweet chutney or relish.
Ingredients
Dumpling mix
140

grams

braised venison

100

ml

beef stock

2

gelatine leaves

1

gram

agar-agar

1

tbsp

balsamic vinegar

1

litre

vegetable oil
Dumpling batter
120

grams

flour

20

grams

caster sugar

1

pinch of salt

2

grams

baking soda

2

eggs

0,5

tsp

honey

2

tbsp

water
Instructions
Game dumpling mix
Finely chop the braised venison. Soak the gelatine leaves in cold water for 5 minutes.

Whisk the agar-agar into the stock and bring to the boil. Add the gelatine, stir well, and leave in the fridge to set.

Once set, blitz in a kitchen blender until smooth. Mix the jellied stock with the braised venison.

Set in round moulds or ice cube trays and stick a toothpick in each, about halfway in. Freeze overnight.
Game dumpling batter
Mix the flour, caster sugar, salt and baking soda.

Mix the eggs with honey and water. Combine and whisk until the batter is completely smooth.

Leave in the fridge until needed.
Cooking the dumplings
Heat the vegetable oil in a deep pan and turn your oven to 180°C. Dip the frozen game mix in the batter, then carefully transfer into the hot oil.

Fry for 3-4 minutes, until golden.

Place in the oven for 5 minutes.

Serve with a chutney-style condiment.
Notes
Recipe supplied by Jake Leach, head chef at the Harwood Arms  https://harwoodarms.com/
Working alongside Brett Graham for many years has inspired him to strive for sustainability and locality in his dishes, which is prevalent at the Harwood Arms. Jake and the team are consistently exploring ways in which they can source ingredients more sustainably, and pride themselves on having a menu that is almost purely sourced from Britain, including meat and game supplied by Brett himself.
It's with the newly developed menu and a focus on sustainability that Jake aims to continue building the great relationships with both the local community and new faces.