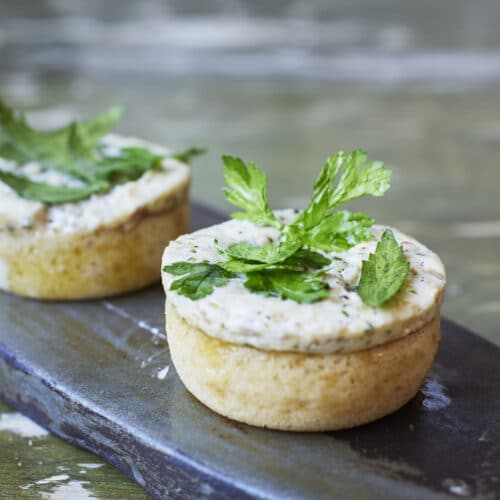 Toasted crumpets with rabbit butter
Use shop-bought crumpets and turn this into a super quick recipe, perfect for breakfast or lunch. This is a great way to use up any leftover meat from your weekend roast as well. The crumpets with rabbit butter can be enjoyed on their own or served as a side with hot soup.
Ingredients
Crumpets
175

grams

self-raising flour

25

grams

wholemeal flour

10

grams

sugar

3

eggs

100

ml

water

4

grams

salt

20

grams

fresh yeast
Rabbit butter
250

grams

butter

150

grams

braised rabbit

1

garlic clove

7

grams

lovage
Instructions
Crumpets
Combine all the ingredients together and whisk together continuously for 2 minutes.

Prepare your mould – this can be a silicone mould with round openings or a baking tin for small muffins.

Grease the tray with a small amount of oil or butter.

Transfer the crumpet mix into the moulds, filling them halfway. Cover the tray with clingfilm and leave for 1 hour in a warm place.

Preheat the oven to 160°C. Bake the crumpets in the oven for 15 minutes, then set aside and allow to cool.
Rabbit butter
Leave the butter out of the fridge overnight. Finely chop the braised rabbit meat and lovage.

Squeeze the garlic through a garlic press. Mix all the ingredients with the soft butter.

Toast your crumpets – you can use a toaster, a frying pan or a panini toaster. Spread the soft butter on the crumpets.
Notes
Recipe supplied by Jake Leach, head chef at the Harwood Arms  https://harwoodarms.com/
Working alongside Brett Graham for many years has inspired him to strive for sustainability and locality in his dishes, which is prevalent at the Harwood Arms. Jake and the team are consistently exploring ways in which they can source ingredients more sustainably, and pride themselves on having a menu that is almost purely sourced from Britain, including meat and game supplied by Brett himself.
It's with the newly developed menu and a focus on sustainability that Jake aims to continue building the great relationships with both the local community and new faces.