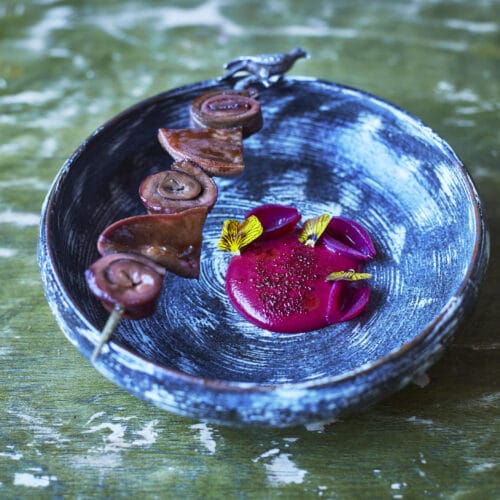 Venison kebabs with beetroot purée
These kebabs are a fun combination of braised and pan-fried venison. Your braised pieces can easily be prepared a day in advance. Baking beetroot brings out lovely, earthy flavours but you can also use pre-cooked, shop-bought beetroot.
Ingredients
Beetroot purée
1

kilo

beetroot

100

ml

red wine vinegar

30

grams

sugar

200

ml

water

30

ml

apple juice

30

ml

olive oil
Kebabs
1

venison steak

500

grams

venison dice

1

litre

beef stock

1

carrot

1

onion

5

garlic cloves
Instructions
Beetroot purée
Wrap the beetroot in foil and cook in the oven at 190°C for 2 hours or until soft.

In the meantime, boil water, sugar and vinegar together. Set aside.

Remove the beetroot from the oven and allow to cool.

Peel the beetroot, and blitz with all the other ingredients in a blender until smooth.
Kebabs
Preheat the oven to 150°C. Chop the carrots, onions and garlic. Fry them in a frying pan until they are golden brown.

Transfer the vegetables to a casserole dish, add the beef stock and bring to the boil.

Caramelise the venison dice, then add it to the casserole dish and cook covered in the oven for 3 hours until the meat is tender.

Drain the braised venison and pat it dry. Cut it into smaller cubes if necessary. Slice the steak into thin strips. Season generously with salt and pepper.

Heat a frying pan. In a small amount of oil, fry the steak and braised pieces until they have caramelised nicely. To finish, add a small knob of butter and a cracked garlic clove to the pan. Take the meat out of the pan.

Serve the meat on a kebab stick with the warm beetroot purée. This can be enjoyed on its own or served with cooked beetroots as a main course dish.
Notes
Recipe supplied by Jake Leach, head chef at the Harwood Arms  https://harwoodarms.com/
Working alongside Brett Graham for many years has inspired him to strive for sustainability and locality in his dishes, which is prevalent at the Harwood Arms. Jake and the team are consistently exploring ways in which they can source ingredients more sustainably, and pride themselves on having a menu that is almost purely sourced from Britain, including meat and game supplied by Brett himself.
It's with the newly developed menu and a focus on sustainability that Jake aims to continue building the great relationships with both the local community and new faces.