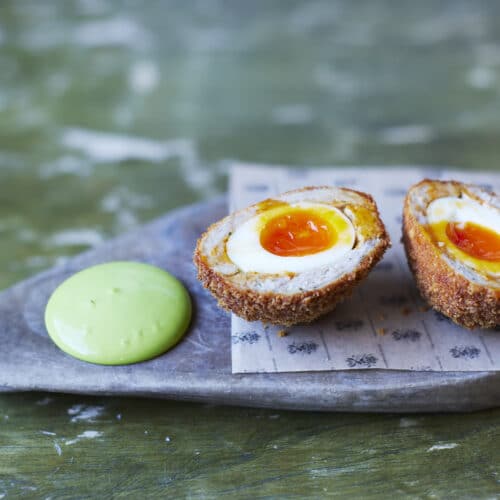 Pheasant scotch eggs
Nothing beats a warm Scotch egg served fresh out of the oven. If you can't get hold of pheasant eggs, simply use normal free-range chicken eggs and cook them for a minute longer. Wild garlic can be substituted with any other green herb.
Ingredients
Scotch eggs
6

pheasant eggs

4

eggs

3

tbsp

milk

150

grams

flour

500

grams

breadcrumbs

1

litre

vegetable oil

ice cubes

220

grams

pheasant mince

220

grams

pork mince

1

sprig

rosemary

1

sprig

thyme

3

grams

salt

3

grams

black pepper
Wild garlic mayonnaise
100

grams

wild garlic

550

ml

rapeseed oil

3

egg yolks

1

tsp

white wine vinegar
Instructions
Wild garlic mayonnaise
Blanch the wild garlic in boiling water for 1 minute. Drain, then blitz in a blender with the oil. Blend for 2-3 minutes until the oil turns vibrant green.

Pass through a coffee filter or a muslin cloth to ensure the blend is smooth. Whisk the egg yolks and vinegar together.

Continuing to whisk, slowly start pouring a stream of the green oil into the egg mixture. Keep whisking until you have used all the oil.
Scotch eggs
Cook the pheasant eggs (at fridge temperature) for 5 minutes in boiling water.

Once cooked, transfer into a bowl of cold water and ice cubes. Leave until they have cooled down, then peel.

Finely chop the rosemary and thyme and mix with the minced meats. Add the rest of the spices and mix until well combined.

For each pheasant egg, weigh out 70g of the meat mix. Flatten it out, then wrap around each peeled egg.

Make sure the egg is sealed all around. Whisk together 4 chicken eggs with milk until well combined.

Put flour and breadcrumbs in two separate bowls. Gently coat the Scotch eggs in flour, then in the egg mix, and finally roll them in breadcrumbs.

Gently press the breadcrumbs into the Scotch eggs to ensure they stick. Repeat this process twice for each egg (each should have two layers of crumb).

Heat up the vegetable oil in a deep pan or fryer until it reaches 180°C and heat up the oven to 180°C.

Deep fry the crumbed eggs for 2 minutes. They have to be fully submerged in the oil – you might need to do this in 2 or 3 batches.

Take the eggs out and place them in the oven for a further 5 minutes. Allow to rest for 2 minutes, then serve with the wild garlic mayonnaise.
Notes
Recipe supplied by Jake Leach, head chef at the Harwood Arms  https://harwoodarms.com/
Working alongside Brett Graham for many years has inspired him to strive for sustainability and locality in his dishes, which is prevalent at the Harwood Arms. Jake and the team are consistently exploring ways in which they can source ingredients more sustainably, and pride themselves on having a menu that is almost purely sourced from Britain, including meat and game supplied by Brett himself.
It's with the newly developed menu and a focus on sustainability that Jake aims to continue building the great relationships with both the local community and new faces.