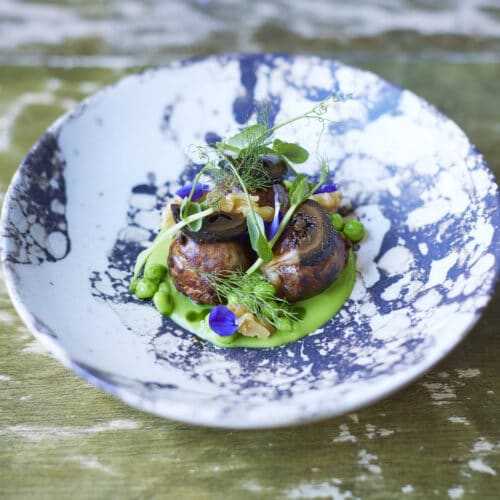 Pigeon faggots with peas
This delicious recipe can be altered in many ways. If you can't get hold of the caul fat from your local butcher, it will work just fine without it. Any green vegetables such as broccoli, asparagus or courgette will work great here as well.
Ingredients
Faggots
300

grams

minced pigeon

300

grams

minced pork

150

grams

pork lardo

75

grams

prunes

60

grams

onions

40

grams

bacon

50

grams

panko breadcrumbs

sea salt and black pepper

caul fat
Additional ingredients
800

ml

gravy

1

kg

frozen peas

3

ice cubes

zest of 1 lemon

400

grams

fresh peas

olive oil

salt
Instructions
Faggots
Finely chop the pork lardo, prunes, onions and bacon. Mix the minces, pork lardo, prunes, onions, bacon and breadcrumbs together until well combined.

Season to taste with salt and pepper. Form the mix into 40g balls. Cut the caul fat into sheets big enough to roll the meatballs in.

Wrap two layers of caul fat around the meatballs (not too tight or it might break during cooking).

Bring the gravy to a gentle simmer. You can add a little water to make it thinner.

In a hot pan with a little oil, caramelise the faggots.

Once browned, transfer to the pot with the gravy and simmer with a lid on for 15 minutes.
Pea purée
Blanch frozen peas for 1 minute in boiling water and drain.

Blitz the peas in a blender until smooth. Add 2 to 3 ice cubes while blending.

Add zest from half a lemon, a pinch of salt and continue blending.
Serving
Heat up the the faggots in gravy and the pea purée.

Add the fresh peas, a splash of water, olive oil and salt to a small pan and cook for 30 seconds.

You can decorate this dish with some pea shoots or any herbs of your liking.
Notes
Recipe supplied by Jake Leach, head chef at the Harwood Arms  https://harwoodarms.com/
Working alongside Brett Graham for many years has inspired him to strive for sustainability and locality in his dishes, which is prevalent at the Harwood Arms. Jake and the team are consistently exploring ways in which they can source ingredients more sustainably, and pride themselves on having a menu that is almost purely sourced from Britain, including meat and game supplied by Brett himself.
It's with the newly developed menu and a focus on sustainability that Jake aims to continue building the great relationships with both the local community and new faces.