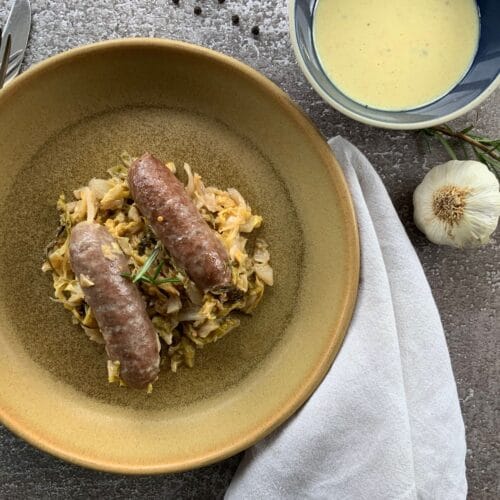 Venison sausages Venetian style
A simple Italian dish for venison sausages
Ingredients
6

venison sausages

1

savoy cabbage, cored and tough veins removed, finely shredded

2

cloves garlic, crushed

1

sprig

rosemary

4

tbsp

sunflower oil

1

tsp

mustard seeds

20

ml

boiling water

2

tbsp

white wine vinegar
Instructions
In a large pan (stainless steel or cast iron) place the finely chopped garlic, oil and mustard seeds. Warm through and simmer to infuse the ingredients for 2-3 min.

Add the finely shredded Savoy cabbage (make sure to remove all the white, thick veins as they don't cook well and remain tough).

Mix well and season to taste. Continue to simmer on a medium heat stirring the cabbage often as can easily burn at this stage.

Add the water and the vinegar and cook with a lid on for at least 25 min, stirring often to prevent the cabbage sticking or burning.

In the meantime, prick the sausages with a toothpick at random (to allow some of the juice to seep through the savoy whilst cooking as well as to prevent the sausages to break).

When the cabbage is at least half of the original volume, add the sausages, and stew for 15 minutes until cooked.

Serve piping hot with a nice dollop of mustard.